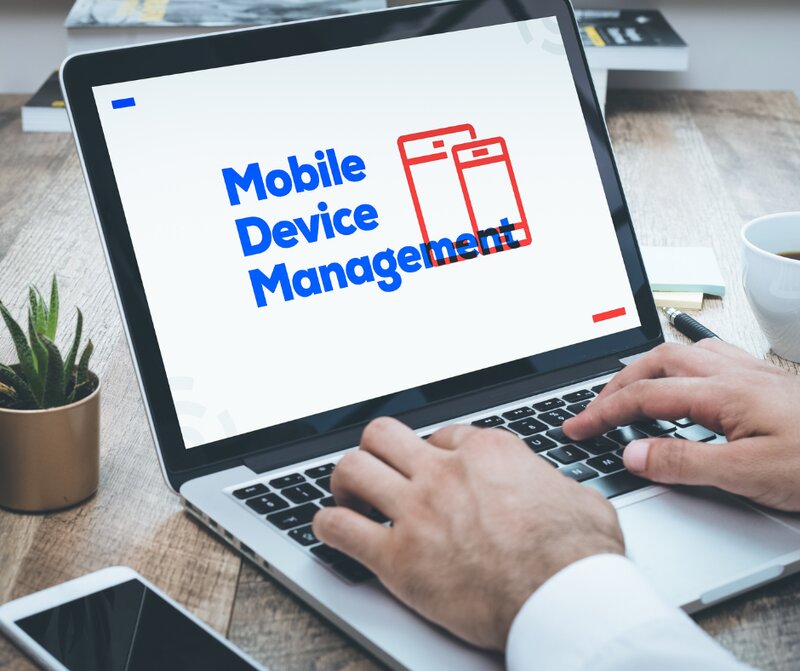 Mobile Device Management (MDM) is a set of tools used to securely manage and control the use of mobile devices within an organization. MDM helps organizations protect their confidential data, mitigate security risks, and ensure compliance with government regulations. With MDM solutions, you can monitor device activity remotely, control access to sensitive corporate information, deploy applications in bulk, selectively wipe data from lost or stolen devices, and more. Whether you are protecting company-issued or employee-owned devices, MDM ensures your organization stays safe and secure. 
The benefits of using Mobile Device Management for businesses 
Mobile Device Management (MDM) is an essential tool for businesses today. With the right MDM strategy, businesses can benefit from improved security, increased productivity, and enhanced user experience. Here are five key benefits of using MDM:  
Improved security: MDM can help protect corporate data by controlling what applications and devices have access to corporate data and resources, enforcing password policies and more. 
Increased productivity: By allowing employees to access critical business information remotely, MDM makes it easier to stay productive while working outside the office. 
Enhanced user experience: Employees can take advantage of device features like geofencing and location tracking to optimize their workflow and provide a more secure user experience. 
Cost savings: With MDM, businesses can save time and money by quickly deploying and managing devices remotely. 
Customized solutions: MDM allows businesses to create customized solutions that meet their unique needs – from scalability to data collection to policy enforcement. 
These are just some of the benefits of using MDM for businesses. By investing in an effective MDM system, businesses can gain greater visibility into their operations, reduce costs, and improve user experience. 
How mobile device use has become ubiquitous in modern business 
In today's business world, mobile devices are becoming increasingly essential. From phones and tablets to wearables and laptops, these devices help connect us to each other, store the data we need for work, and provide easy access to a variety of tools and applications.  
Mobile devices allow us to work smarter by providing instant access to valuable information whenever and wherever we need it. We can use our phones to stay connected with customers and colleagues; tablets to make presentations and take notes; wearables to monitor performance in real time; and laptops to access cloud-based documents. By having these devices at our fingertips, businesses can increase productivity and efficiency while on the go.  
In many ways, mobile devices have become an indispensable part of modern business, enabling teams to collaborate quickly, share ideas easily, and stay informed no matter where they are. Whether you are a startup or a Fortune 500 company, having the power of mobile technology at your disposal can give you the edge you need to succeed. 
The Advantages of Mobile Device Management 
Mobile device management (MDM) is a powerful business tool that helps organizations keep track of their company-owned mobile devices. MDM can give companies the control and visibility into their mobile deployments that they need to stay secure, compliant, and productive. Here are five advantages of Mobile Device Management:  
Security: Security is necessary, but it does not have to be hard. With MDM solutions, you can remotely lock, wipe, and manage all your company-owned devices from one platform. That means no more worrying about lost or stolen devices and data falling into the wrong hands. Plus, with automated updates, device compliance policies and real-time alerts, you can ensure your security strategies stay up to date without slowing down your business. So do not let security slow you down - get the peace of mind that comes with an MDM solution.
Compliance: Regarding. It is not enough to have a policy – you need to be able to enforce it. That is where MDM solutions come in. By allowing organizations to institute standard policies across all mobile devices, monitor usage in real-time and flag any potential violations, MDM solutions make sure your data stays secure no matter where your people work from. So, if you are looking for an uncomplicated way to keep mobile data safe, MDM is the answer.
Consolidated Management: Is your business struggling with mobile device management? MDM solutions offer a comprehensive approach to managing entire fleets of mobile devices. With a single platform, you can securely and easily manage the deployment, customization, and ongoing maintenance and security of your mobile devices. From access controls to app distribution, monitoring usage patterns, and data protection, MDM solutions have everything you need to keep your business's mobile devices running securely and efficiently. Do not let mobile device management slow down your business – get an MDM solution today and make your work go smoothly!
Productivity: Introducing Mobile Device Management (MDM) – the all-in-one solution for businesses looking to stay secure and productive in a rapidly changing landscape. With MDM, you can easily control your organization's mobile devices and ensure they have access to the right tools and networks while staying within approved device parameters. Whether you oversee ten machines or 10,000, MDM allows you to monitor, manage, and secure your entire IT infrastructure from a single dashboard. Deploying MDM is easy and cost-effective, giving you peace of mind that your business data is secure and accessible only to authorized personnel. Mobile Device Management – helping your business stay one step ahead.
Cost savings: Is your business looking for ways to save money but still offer employees the latest mobile devices? Look no further than Mobile Device Management (MDM) solutions. MDM enables you to deploy corporate applications onto employee-owned devices, dramatically reducing the cost of purchasing new devices outright. And with today's MDM solutions offering a range of features from device management and security to remote deployment, your business can optimize efficiency while ensuring your data is safely managed. Do not wait – start exploring the benefits of MDM solutions today!
Conclusion: 
Mobile device management (MDM) is an invaluable tool for businesses. It can help to ensure that company data is secure and kept private; it can also improve productivity by making sure that devices are being used efficiently and effectively. MDM can be an invaluable asset for any business, whether it is a small or large enterprise. With the rise in mobile usage, implementing MDM solutions into your business can increase security, maintain employee satisfaction, and enhance organizational efficiency – all of which leads to greater success and profits.