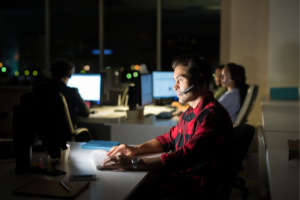 The increase in service desk's importance can be seen as the digital revolution dramatically changing its efficiency in government services and all business sectors. Most populations now schedule bills, pay traffic tickets and file their taxes online. However, modernization also potentially exposes networks to new vulnerabilities. In other words, From digital transformation to the cloud and IoT, there is a radical change in the technology we use and how we use that technology. But the sad result is that many security incidents have been reported lately.
What is security help desk?
Help desks are often used for IT support, either external customers or internal customers (employees) who need technical support. However, some companies see help desks as customer service, customer advocacy, or customer support teams in general.
The service desk is the main interface between the IT organization and those who use your IT services. It means people who work on the service desk are uniquely placed to understand what is happening within the user's community. These are well-trained individuals and tagged as the first line of defence against many potential security breaches. Moreover, there are a lot of major security breaches at some organizations that have remained undiscovered for quite some time. During this time, the attackers have been able to make off vast amounts of highly confidential data. It makes sense when experts believe that the service desk is the eyes and ears of information technology. As always, early detection is crucial.
On the Radical Changes in Technology
A survey asked over 600 service desk managers and professionals about the significant changes service desk professionals have seen in the past few years. The figure below shows the three radical technology changes that have impacted the service desk: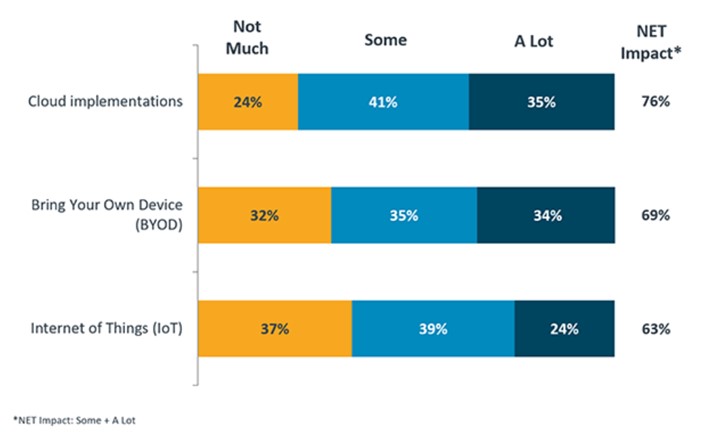 The article emphasized that cloud technologies have significantly impacted the world because cloud implementations have increased over the past 18 months. Cloud has brought with it a decentralized IT environment; now, each department in an organization is sourcing its own IT. As a result, we're witnessing:
The evolving end point is not just mobile devices and PCs anymore. We'll see end points continue to morph even more radically shortly.
Shadow/decentralized IT:Call it what you want, but departments all-around your company or organization are sourcing their own IT solutions. Get used to it.
The dissolving perimeter:Yes, firewalls still exist and are important. But they only get you so far. Now, you need to protect—and backup—resources on various sides of the firewall. We've always worried about the "insider threat." But now, there is no substantial distinction between "inside" and "outside" regarding IT.
Importance of the service desk?
A company needs to implement their business plan through a good service desk that can improve customer satisfaction. A proper service desk manages IT costs to improve company satisfaction. Effective and efficient communication between the Service Desk and the end-user sets it apart from the competition. An integrated approach can give an organization a unified insight into its security posture, allowing them to predict threats and respond quickly and effectively.
With the increasing Internet connections, cybersecurity experts are in high demand. A growing number of cyber-attacks across all sectors are creating tremendous demand for professionals with the skills to protect individuals, companies, and governments from these threats.
Moreover, customer service desks serve as a primary point of contact for employees and customers. When customers need answers, they turn to the help desk. Require staff assistance with various issues, such as accessing new systems, upgrading the security on their laptops, or troubleshooting printers. The help desk is always on hand to assist.
Cyber Hygiene
Furthermore, always encourage employees to practice good cyber hygiene to promote a safe digital environment for the company's benefit, as this minimizes the risk of victimization and supports the productivity and success of the organization as a whole.
For an enterprise's employees to be cyber security aware, they need to understand what cyber threats are, what impacts a cyber-attack could have on the business, and the steps they should take to minimize the risk and prevent cyber-crime affecting the office network. Apart from that, In terms of data safety, it is essential to safeguard both data at rest and in transit with cryptographic controls, implement an effective access control system, and monitor and log access to data effectively. It may seem not easy to understand, and we do understand that. Our professional services will help you and your business grow smoothly and productively. Talk to us now and learn more about help desk services.