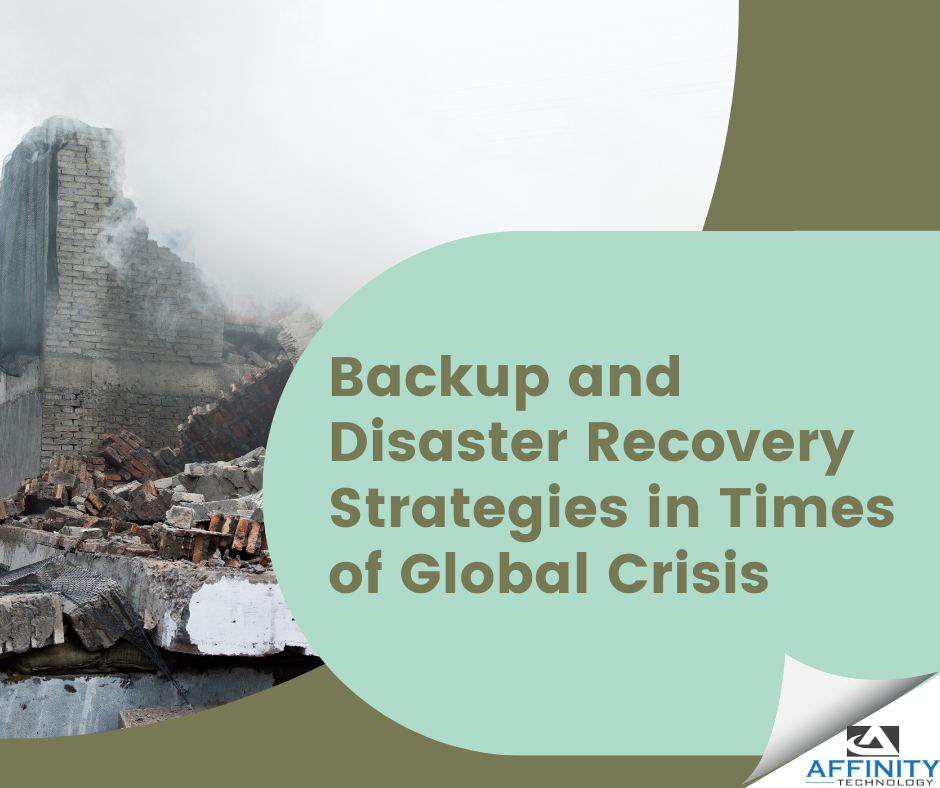 Backup is an important term in many instances. It could be during the surge of the pandemic, an answer to the scarcity of supplies, goods, or clothes. However, it is also a crucial term referring to cybersecurity. No matter how you use it as a verb or a noun, its importance is the common denominator.
What's the Catch?
Back up and Disaster Recovery strategies are two inseparable phrases as much as cybersecurity is concerned. In other words, Backup is useless without a recovery plan. Since we were hardly affected by the current health crisis and thousands of reported cyber attacks worldwide, we learned a lot about having good backup and recovery strategies.
Understanding Backup and Recovery Strategies
As defined and explained in our previous blog, You should never ignore these factors if running a business. The main objective of a disaster recovery plan is to ensure that you are prepared and can respond to a disaster, whatever the causes are. Business disasters can happen to any organization at no particular time. Take a look at some yet prevailing disasters.
Both have devastating effects on all businesses and organizations, whether it's a natural cause or a human-caused disaster. The most affected ones are the small business and medium-sized enterprises.
A mid-sized company with 1,000 employees being attacked between 56,000 and 86,000 times in 2022 equates to just five to seven attacks per employee per month.
The main objective is to ensure that a particular organization is equipped and can respond to any form of disaster that affects the information system. Same as, to minimize the critical effect in business operation in general.
1. Major goals of a disaster recovery plan
- To minimize interruptions to normal business operations.
- To limit the coverage of disruption or damage
- To minimize the impact economically
- To establish alternative protocols of operation ahead of time
- To train personnel with emergency response
- To provide for smooth and quick restoration of service.
2. Personnel
You can use a table or a record sheet to input your data processing personnel on this topic. You can also include a copy of the organization chart with your plan.
3. Application Profile
Here you can use the Display Software Resources (DSPSFWRSC) command to complete the table on this topic.
You can view all the examples prepared by the International Business Machines Corporation here.
Cybersecurity Crisis in times of war
On February 24, 2022, the most feared conflict between Ukraine and Russia began. As the world felt its effect on the economy today, the war has nothing good outcome than death, injuries, damages, trauma, bankruptcy, and worsened cases of cybersecurity threats.
Immediately after the conflict broke out, suspected Russian-sourced cyber-attacks were observed over a 48-hour period at an increase of over 800%. U.S. cybersecurity agencies, the FBI, and the Department of Homeland Security have all shared high alerts covering threat levels, preparedness, and response. 
Suppose cybercriminals used the pandemic as a medium of a series of attacks. In that case, there's is a big possibility that current military and political conflicts can also be used to exploit the vulnerabilities of many organizations and businesses. We can predict the form of attacks that will emerge or those that may occur successfully, but as we have witnessed in the history of international aggression, we must stay vigilant.
Strategies and Security Preparations
Recently, Forbes released general guidelines that the government must share as a part of cybersecurity preparations:
Patch Internet-facing and Business Critical Software
Patch for all software and all vulnerabilities, even the old ones. Take no shortcuts because if you only patch against known attacks in the wild, you may get caught. If it's on the internet anywhere, in any way, or handles your traffic, communications, or remote business operations – patch it.
Prepare for Ransomware and/or Data Destruction
Ransomware is bad enough, but many have become accustomed to the behavior of demanding a ransom. Those same methodologies and vulnerabilities can also destroy data by simply disposing of the decryption key or a simple rewrite. Recovering from attacks is much more than nullifying the threat – it means coming back from a disaster. Test your backups validate your recovery plans and continuity plans as well. Take the path of scenario planning on every component of your systems.
Be Prepared to Respond Quickly
Have your response organization finely tuned. Consider what might happen if emails are out. Consider who will be the incident manager and that all non-email contacts are up to date. Walkthrough and reinforce how information for teams, customers, and employees will be shared in the event of a crisis.
Lock Down Your Network
Batten down the hatches. It may seem inconvenient to run through every aspect of your network, especially when you send links to team members and clients or use a convenient chat application. However, it may be time to modify policies and affect the convenient experiences until some point in the future. If you can figure out a way to function without and eliminate a potential risk point, you should do it.
Intellectual Property of Forbes
Realization
In general, disasters can't be prevented 100%. However, experts have formulated effective and proven solutions on how to mitigate the effects. Sadly, many of us neglected its importance and relevance. Indeed, the world will never be the same again, as a pandemic is still rising. Moreover, Russia's invasion of Ukraine has already left a disastrous impact on all corners of the world. Imagine how many businesses have lost their files and data as the war erupted almost a month ago. How will they start again even if the war ends?
Conclusion
It is always safe to go back to the very basic. We only anticipated fire, earthquakes, hurricanes, and employees' cybersecurity lack of training. In contrast, none of us predicted war. Maybe we are just afraid of its impact on us. In addition, who would think that a political dispute will result in war and invasion. Prevention is always better than cure. We can learn a lot from both covid-19 and Ukraine-Russia conflicts.
And speaking of prevention, backup and disaster recovery plan must be your first concern. You can't just sit and discuss it with your subordinates. It would help if you had experts to professionally guide you and help you establish this and a business continuity plan. Talk to us now.