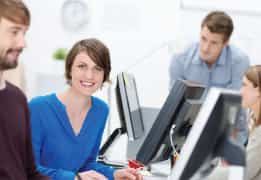 Cybersecurity Awareness Month—formerly known as National Cybersecurity Awareness Month, continues its platform not only to raise awareness about the importance of cybersecurity across the nation but also, to prepare the public for possible cybersecurity attacks.
What is Cybersecurity Awareness Month?
Cybersecurity Awareness Month – observed every October. Furthermore, It is a collaborative effort between government and industry to ensure every American has the necessary resources to stay alert, safe, and more secure online.
Cybersecurity Awareness Month has grown exponentially. Conversely, from its original inception under leadership from the U.S. Department of Homeland Security and the National Cyber Security Alliance. As a result, it reaches consumers, small and medium-sized businesses, corporations, educational institutions, and young people across the nation.
A brief history of Cybersecurity Awareness Month
Eighteen years ago, the Department of Homeland Security and the National Cyber Security Alliance initially launched National Cybersecurity Awareness Month (NCSAM). The goal is to ensure organizations. Also, consumers are ready to take on the cybersecurity landscape. In other words, After almost two decades, Cybersecurity Awareness Month continues to build momentum and impact co-led by NCSA and the Cybersecurity and Infrastructure Agency (CISA).
When Cybersecurity Awareness Month was first introduced, the awareness efforts revolved around advice like updating your antivirus software twice a year. Same as the efforts around changing batteries in smoke alarms during daylight saving time.
Some Highlights through the years
A.
| | |
| --- | --- |
| Between 2009 and 2018 | The theme was "Our Shared Responsibility." Also, It reflected everybody's role, from large enterprises to individual users. |
| 2009 | Janet Napolitano, DHS Secretary, launched Cybersecurity Awareness Month in one of the events at Washington D.C. Conversely, she became the highest-ranking government official to participate in the month's activities. |
| 2010 | It included the lunch of STOP. THINK. CONNECT. campaign. Furthermore, the campaign was included in President Obama's proclamation for the month as the national cybersecurity education. Also, an awareness message. |
| 2010 | The National Cyber Security Alliance began mobilizing the campaign of the month around the country. Clearly, the month has been launched in Boston, Omaha. Not only NE, Seattle, and Bellevue. But also, in WA, MI Ypsilanti, Nashville, TN, MA, Washington, DC. |
| 2011 | NCSA and DHS formulated the concept of weekly themes during the month. Subsequently, It includes education and cybercrime. Moreover, law enforcement. Furthermore, it focuses on mobility, critical infrastructure, and small and medium-sized businesses. |
| October 2020 | The new Cybersecurity Awareness Month logo was downloaded over 3,000 times during the month. |
| Champions | Three thousand one hundred sixty-five organizations and individuals registered as 2020 champions. Besides, it increases +25% year over year. |
B.
| | |
| --- | --- |
| 95% | The percentage of champions surveyed used NCSA and CISA resources leading into or during Cybersecurity Awareness Month. |
| 102,514,520 people | Combined estimated reach of all Champion organizations |
| Champion Geographical Reach | 54 countries and all 50 states |
| Traditional Media | 8,425 unique articles published 3.1 global reach |
| Digital and Social Media | StaySafeonline.org Website Analytics (Oct. 2020) 188.4k sessions 157k unique visitors 367.6k page views 26% increase from 2019 27% increase from 2019 10% increase from 2019 |
| #BeCyberSmart Usage (Sept-Oct 2020) | 77,117 tweets with #BeCyberSmart 24,728 users tweeted with the hashtag 752M total approx. impressions 70% increase from 2019 76% increase from 2019 94% increase from 2019 |
Cyber Security Awareness Month and its purpose.
' Do Your Part. #BeCyberSmart'. is the theme for this year's Cyber Security Awareness Month. Furthermore, Helping to empower individuals and organizations to own their role in protecting their part in cyberspace.
Importance of Cybersecurity Awareness Month
The celebration includes regulatory action and potentially sizable fines, as well as long-term reputational damage. Moreover, if the customers and other stakeholders don't trust the company responsible for information, they probably move to a competitor.
What is Cyber Security Awareness Week?
Cyber Career Awareness Week will commemorate the third week in October, during October's Cybersecurity Awareness Month. Nevertheless, the campaign provides an opportunity to learn about the plethora of job opportunities each day. Besides, It is only one among the many activities to explore cybersecurity as a career preference.
Cybersecurity Awareness Month 2021 Highlights
This year, ransomware attacks have disrupted not only schools, healthcare organizations, fuel pipelines. But also, food suppliers, and several organizations. As a result, disruptions have impacted, first, public health, followed by the supply chain and national and economic safety—lastly, the security.
(Week 1) Week of October 4
Be Cyber Smart

The first whole week of Cybersecurity Awareness Month will highlight best security practices. Furthermore, it will focus on general cyber hygiene to keep your information safe.

Conversely, it will encourage you to own your role in cybersecurity by starting with the basics. On the other hand, the following are the basic yet very essential components of cybersecurity. First, you should create strong passwords and using multi-factor authentication. Second, practice backing up your data. And lastly, it is crucial to update software constantly. Definitely, It is a great way to Do Your Part #BeCyberSmart!

(Week 2) Week of October 11
Fight the Phish!

Phishing attacks and scams have prospered since the COVID pandemic began in 2020. As a result, phishing attacks account for more than 80 percent of reported security incidents.

Week 2 of Cybersecurity Awareness Month will emphasize the importance of not only, but also gives alerts to emails, text messages, or chat boxes that come from a stranger or someone you were not expecting. Furthermore, It will teach us to practice the "think first before you click" strategy.

(Week 3) Week of October 18
Explore. Experience. Share -Cybersecurity Career Awareness Week. Week 3 of Cybersecurity Awareness Month will focus on the Cybersecurity Career Awareness Week led by National Initiative for Cybersecurity Education (NICE). Furthermore, the week-long campaign would inspire and promotes the exploration of cybersecurity careers.
(Week 4) Week of October 25
Cybersecurity First - The final week is all about making security a priority. In addition for businesses, building security into products and processes. On the other hand, consider cybersecurity training a part of employee onboarding. Moreover, the program will equip staff with the tools they need to keep the organization safe.
Join the Campaign
The aim is to encourage the American public to invest not only a more sustained, proactive approach towards online safety but also, endorse awareness and dialogue about Americans' dangers online.
To spread cybersecurity awareness across the country to people of all ages and expand the reach of STOP. THINK. CONNECT.™ messages. Furthermore, the campaign established the Partners and Friends program comprised of non-profit organizations, government agencies, colleges and universities, and individuals advocating and promoting cybersecurity within their organizations and their stakeholders. As a result, Partners and Friends have access to resources, events, speakers, and the latest Campaign information.
If your organization is interested in joining the campaign, contact [email protected] to become a Partner.